The dedicated CCI Asia team recently embarked on an exciting journey to China, immersing themselves in a five-week endeavor aimed at reinforcing their steadfast 15-year presence in this dynamic market. The primary objective of this venture was to foster new and robust international partnerships while further bolstering their existing connections.
During this eventful trip, Patrick Harte, the esteemed Chief Representative Officer for China at CCI, had the privilege of attending the highly esteemed 7th International Mediation Summit, which took place in April. As a representative of CCI, he was bestowed with the honor of addressing an audience of 4-500 attendees, and thanks to the wonders of technology, an astonishing 3.2 million participants virtually joined in. Patrick's compelling speech undoubtedly left a lasting impression, shedding light on CCI's prowess in the credit insurance sector and its unmatched expertise in the international debt collection markets.
The exposure garnered from Patrick's engaging presentation is bound to contribute significantly to solidifying CCICM's already well-established 35-year reputation as an unrivaled leader in the credit insurance industry. With this additional recognition, CCICM continues to stand tall as a premier player in the realm of international debt collection, setting new standards of excellence that reverberate across the global financial landscape.
As CCI expands its reach and strengthens its presence in China, the team remains unwavering in its commitment to delivering top-notch services and forging mutually beneficial relationships with clients and partners alike. Their extensive experience in the market, combined with a deep understanding of local customs and regulations, ensures that they are well-equipped to navigate any challenges that may arise, providing tailor-made solutions for clients' diverse needs.
CCI's dedication to maintaining its status as an industry leader is further fueled by its unwavering focus on innovation, continuous improvement, and client satisfaction. By consistently exceeding expectations and delivering exceptional results, CCICM has become synonymous with reliability, trust, and success in the field of credit insurance and international debt collection.
With each successful venture, such as the recent trip to China and Patrick Harte's impactful presence at the International Mediation Summit, CCI strengthens its foothold in the global arena. By continuously expanding its reach and forming strategic partnerships, CCICM remains at the forefront of the industry, paving the way for a more secure and prosperous financial future for its clients worldwide.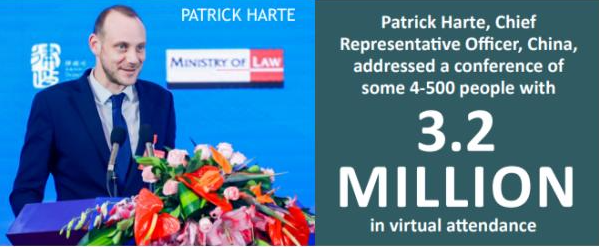 https://www.ccicm.com/ice-root/wp-content/uploads/CCICM-Logo.png
0
0
Ice Site Admin
https://www.ccicm.com/ice-root/wp-content/uploads/CCICM-Logo.png
Ice Site Admin
2023-08-10 14:14:35
2023-08-10 14:15:09
CCICM Attend the international mediation summit 2023