International Debt Recovery
Overview
International Collections: Overview
CCI Credit Management
is the largest international debt recovery agency in Europe.
We are also the founder and exclusive UK member of International Credit Exchange (ICE) – the world's leading collections network.
Our flexible, multi-phase approach is designed to provide clients with the best results in every part of the world. Early stage collections are undertaken from our award winning multi-lingual call centre in the UK.
Because we own and operate the largest agency network in the world, we also have a local presence in over 130 countries. Each has the capacity to collect, trace and if necessary, issue legal proceedings.
What does this mean for our clients?
Combined, flexible call centre and network approach maximises recoveries and minimises costs
2000 people covering 130 countries from over 90 offices worldwide working on your behalf
Over 30 years' experience representing every sector and type of business
An unrivalled ability to trace, collect and litigate worldwide
Pre-legal no win no fee globally
Using CCI provides you with worldwide expertise. Whether your files are B2B or B2C, straightforward or complex, small or large volume, we can help.
Click here for our Chinese language pages.
Coverage
International Coverage
With 2000 people in over 90 offices covering more than 130 countries, we deliver local expertise wherever you need it.
Map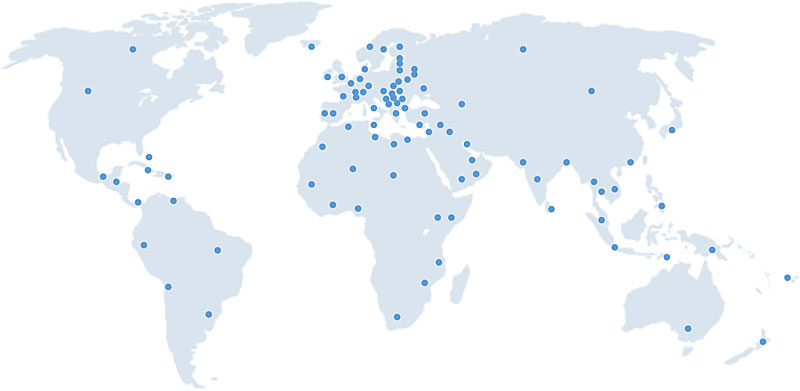 List of Offices
Algeria | Argentina | Australia | Austria | Bahrain | Bangladesh | Belgium | Bolivia | Bosnia & Herzegovina | Botswana |Brazil | Bulgaria | Cambodia | Canada | Caribbean | Cayman Islands | Chile | Columbia | Croatia | Cyprus | Czech Republic | Denmark | Dominican Republic | Dubai | Ecuador | Egypt | Estonia | Finland | French Guiana | Gambia | Germany | Ghana | Greece | Guyana | Hong Kong | Hungary | India | Indonesia | Iran | Ireland | Israel | Italy | Japan | Jordan | Kazakhstan | Kenya | Korea |Kosovo | Kuwait | Laos | Latvia | Lebanon | Liechtenstein | Lithuania | Luxembourg | Macedonia | Malawi | Malaysia | Malta | Mauritius | Mexico | Morocco | Mozambique | Namibia | Netherlands | New Zealand | Nigeria | Norway | Oman | Pakistan | Panama | Paraguay | Peru | Philippines | Poland | Portugal | Qatar | Romania | Russia | Rwanda | Saudi Arabia | Serbia | Singapore | Slovakia | Slovenia | South Africa | South Korea | Spain | Sri Lanka | Suriname | Sweden | Switzerland | Taiwan | Tanzania |Trinidad & Tobago | Tunisia | Turkey | UAE | Uganda | Ukraine | Uruguay | USA | United Kingdom | Venezuela | Vietnam | Zambia
ICE

ICE – International Credit Exchange
Collecting international debt presents a unique set of challenges. Different jurisdictions, time zones, languages, currencies, cultures and regulatory regimes all make international collecting far more complicated than domestic. By far the best way to overcome these difficulties is to have a local presence.
CCI is the founding member of ICE (International Credit Exchange) – the world's leading collections network. With over 90 partner offices and 2000 people, we deliver local expertise wherever you need it and have an unrivalled ability to trace, collect and litigate worldwide.
ICE is comprised exclusively of the largest and most highly regarded agencies and law firms who work to the highest compliance standards from a centralised IT platform. Every partner is carefully selected, ensuring that they represent the best solution in each country.
Click here for more information about the ICE network.
Worldwide Litigation
Worldwide Litigation
Our worldwide network of law firms – all of which specialise in international debt recovery – provides the ability to litigate in just about every jurisdiction. Constant performance monitoring and complete transparency ensure that all files receive expert and prompt attention in every part of the world.
Transparency
All information is transferred and managed on a single IT platform. You simply log on and check the progress of your legal files anywhere in the world. As well as online account management our account managers are always on hand to provide real time updates ensuring you are always kept fully informed about all of your accounts.
Results
Because we specialise we understand the importance of results. Every element of every process has been designed to secure the best possible outcome for you. Better still, pre-agreed prices and turnaround times make global litigation realistic and affordable.
Other International Services
Other International Services
International Tracing
Every country has its own unique databases and data protection laws, so a local presence is often essential for successful and lawful international tracing. Additionally, international trace results will require checking and validating, which is much more easily done locally than from the other side of the world.
Through the ICE global partner network, CCI is able to perform worldwide tracing efficiently, legally and compliantly. And local expertise maximises the likelihood of success.
International Credit Reports
CCI offers a wide variety of credit reports and financial investigations to our clients either as part of the collection process or as a stand-alone service. We have the systems in place to undertake the majority of the requests ourselves as well as a vast network of reliable and trusted contacts we can call upon if anything out of the ordinary is requested. Click here for further information on these services.
Compliance
International Compliance
At CCI Credit Management our international compliance programme has been created to deliver to the highest standards and most demanding sectors in the world. We have taken the core elements from the UK FCA regulations and combined them with a wide variety of worldwide and sector specific requirements.
Partner Onboarding and Auditing
All international partners are on-boarded using a three stage due diligence process to ensure they are fully compliant with the highest global standards. Thereafter there is a continuous programme of performance monitoring as well as remote and physical auditing. This system is both robust and transparent and we believe represents the highest worldwide standard currently available.
Quality
ISO 27001 and ISO 9001 lie at the core of everything we do. We performance and quality manage every process, every team and every country. Moreover all of our performance monitoring is available to our clients so they can be certain they are getting the best service possible, wherever in the world their accounts are located. Your reputation is safe with us.
Click here for more information about our compliance standards.
Clients
Clients
We represent every sector and strata of business. Whilst our service is used by governments, banks, public sector and multi-nationals, we also represent many SMEs and trade associations. However all of our clients have come to us because they expect outstanding performance, worldwide coverage and true value for money.
Charges
Charges
CCI Credit Management undertakes all pre-legal international collections on a no win no fee basis. Additionally, there are no advanced fees or set-up charges. You're only charged once you've been paid.
International debt collection can be much more complex than domestic collections and every case must be assessed on its own merits. Commission rates are dependent on various factors including:
• Age of the debt
• Location of your customer
• Involvement of an overseas partner
If we can collect from our head office, we do. We also have the capacity to refer the case to an overseas partner. Commission rates will sometimes increase at this point but we would always discuss this with you before proceeding.
Services such as legal action or tracing are classed as additional services and charges may apply. However you are always advised in advance and we never proceed with any additional services without your prior agreement.
Addresses
Head Office
CCI Credit Management Ltd
The CCI Centre
Snowdonia Business Park
Porthmadog
LL48 6LD
United Kingdom
Tel: +44 (0)1766 772288
Fax: +44 (0) 1766 771840
Ireland
CCI Credit Management Ltd
Level 1
The Chase
Carmanhall Road
Sandyford Industrial Estate
Dublin
D18 Y3X2
Ireland
Tel: +353 (0)1 536 3290
Manchester
CCI Credit Management Ltd
Peter House
Oxford St
Manchester
M1 5AN
Tel: +44 (0)1766 772288
Fax: +44 (0) 1766 771840